In this newsletter:
· New policy meetings in different countries
· First STEAM+ lab in Venice
· Project Meeting Klaipeda
· Digital STEAM+ lab in Klaipeda
· Membership EHC
· Save the dates
· Update-Green Competencies Framework
Valuable inputs from national policy meetings from some partner country
Policy makers in each STEAM+ country are important key actors for implementing our projects strategies and necessary changes. The aim of these meetings is raising awareness among policy makers about the importance of transdisciplinary approach in education as well as discussing the challenges and opportunities in each country in these areas. First round of policy meetings started in April 2021 and ended up in June 2021. Here are some highlights from the latest meetings in our partner countries that will inspire us in creating one of our main outcomes- a menu for policy makers across the EU.
Norway: Some of the challenges mentioned in Norway that is known as an egalitarian country are because our project focuses on using Honours programs for implementing transdisciplinary education. It may help to focus more on developing transdisciplinary programs for the most motivated students to ensure talent development in the young generation. A good suggestion as a starting point in higher education is to work top-down with university leaders, to convince them that such transdisciplinary programs are very valuable, achievable and powerful.
Netherlands: The Dutch STEAM+ team also had their policy meetings where policy makers were asked to indicate what they would need to actually stimulate transdisciplinary education. The expressed result of this, was that they need a real menu, containing items that everybody needs in organizing transdisciplinary education. In line with the menu metaphor: items that are necessary for all like a glass of water and cutlery at dinner, items that you can choose, like different courses on a dinner menu, and on top of that a guide to lead you through the menu, like a waiter in a restaurant.
The information gained from these meetings is very valuable for our project and will be taken into account in the next stages of the project.
The First Innovation STEAM+ lab in Venice

'Citizen Science for Marine Conservation' – (18-23 of July 2021)
In our STEAM+ project, co-creation by students, lecturers, and societal partners is the key to creating innovative pedagogies and better solutions for the 21st century challenges. Our first STEAM+ Innovation Lab took place in Venice, organized by the Ca Foscari International University of Venice. Each of the 9 participating universities (countries) sent a lecturer as well as a student to Venice to participate in the Lab. The participants had various educational backgrounds, and their working experience was diverse. Different experts from Venice were also involved in the lab. Theory-U used in the innovation lab which suggests shifting from a personal, individual-centered approach to a collective, group-centered one in order to move towards a more sustainable, healthy life.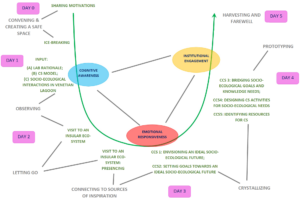 What happens in Venice, doesn't stay in Venice-it is meant to be shared!!
The lab used a local approach to global issues- the Venetian Lagoon was the starting point for group projects about marine conservation and citizen science, making it concrete and local. Join us in sharing this amazing experience, the innovative pedagogies and the co-creative process that participating teachers and students describe in their blogs on STEAM+ website. See https://www.steamtalent.eu/blog/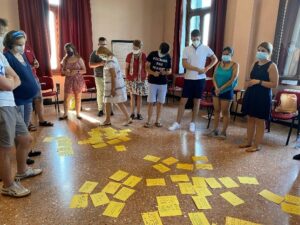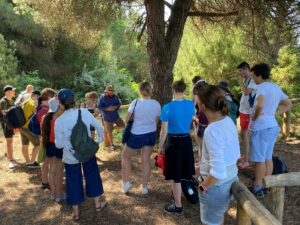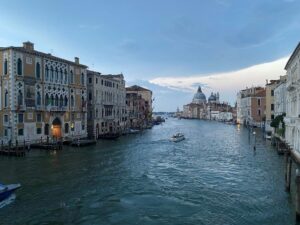 Virtual Klaipeda Project Progress & Steering Group Meeting

(13th-15th Oct. 2021)
Our second project progress meeting, which was supposed to be taken place in person at University of Klaipeda, was taken place online from 13th Oct. until 15th Oct. 2021. We decided to do it online due to a lot of concerns regarding the ongoing pandemic. However, we spent some time to adjust the agenda for fruitful, useful and fun online sessions.
It started on 13th of Oct. 2021 in the afternoon with a warm welcome by the project coordinator, followed with a nice introduction about the University of Klaipeda. On the first day of the meeting, we talked about the progress of the project so far and remaining tasks and budget were explained to all partners. Also a short and introductory session about Innovation Lab Implementation Path (ILIP), one of our two important products of the project, by asking all steering group members to think about their expectations from the final product of ILIP to empower them to develop or improve an interdisciplinary education, and their experience in our first Innovation Lab in Venice, and provide the answers on the last day of the virtual meeting. We are honoured that a group of students from University Leuven is able and willing to co-create with us to create an implementation path for innovation labs.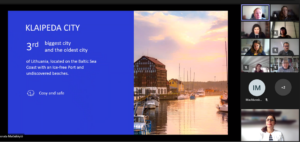 On the second day of the virtual meeting ( a full day), we had several amazing sessions : such as lesson learned of the Venice lab, evaluation of the lab, draft program of the Virtual Klaipeda lab ( our second innovation lab), the current status of Menu Policy Inspiration (MPI) and how it will be continued to form our second important product, importance of communication in our project, different ways of disseminating the results of the project, contributing to writing blogs and Newsletter.
Two member of our Advisory Board members (Professor Jean-Pierre Gesson from France, Professor Maija Aksela, director LUMA Centre Finland) were present in the session for MPI and communication and provided us with useful feedbacks, one of our AB members , Professor Jean-Pierre Gesson,International Relation manager of the Figure network in France, emphasized that that it is important to co-create your innovation with a small group of universities in each country. So it is very important to invite other people from other universities in each country to join our national policy meetings, and agree to collaborate with us.
On the third and last day of our meeting which was half day, we had discussion session for ILIP, while all partners discussed their answers to the provided questions from the first day, it followed by the brief session about MPI that tasks for all partners were explained and more discussions about OUR Virtual Klaipeda lab which will be taken place from 22nd Nov. 2021 till 3rd Dec. 2021.
Our last session was dedicated to discuss about our third innovation lab in Linz (in May 2022), and how our next project progress meeting will be taken place in parallel to the lab, and it will be hopefully in person and not online. Stay tuned for more info about our second and third innovation labs)
Digital Innovation STEAM+ lab in Klaipeda

(Nov 22nd with breaks to Dec 3rd)
The second STEAM+ transdisciplinary lab will be digital and organized by our Klaipeda University partner. The main topic of the lab is 'Sustainable Solutions for a Harbour City'.
Groups of 5 to 3 students and teachers from each partner country will join for a two weeks period in a very exciting program where they will listen to different speakers, choose a topic or more from the table under and identify challenges in their own campus. They will work together for finding innovative solutions for those challenges.
News from our Associate Partner European Honors Council:
The European Honors Council invites you to become a member for free. You can use their website www.honorscouncil.eu to subscribe. Also they invite you to submit articles to their journal www.jehc.eu or to take a read. For instance the article on the importance of relations through co-creation within the transnational project CoTalent may be of help when designing transdisciplinary labs: https://www.jehc.eu/index.php/jehc/article/view/155/129
Save the dates:
· The upcoming innovation lab is organized at the site of the University of Linz, Austria: 9th-13th May 2022
· One of our project meetings (M5) will take place in Leuven on 8th-9th Sep. 2022 and will be combined with Higher Education Summit in Hasselt –Belgium COPERNICUS Alliance
Update-Green Competencies Framework

discussed with stakeholders – STEAM+ was there!
by Anne Snick, Phd, KU Leuven, BE
On October 28 th EU Joint Research Centre (JRC) in collaboration with Directorate General for Education and Culture (DG EAC) organised a stakeholder workshop to discuss the European Green Competencies Framework. This framework is currently being developed to support the societal transition the European Green Deal calls for, implying not only new – more complex – knowledge, but also values and actions allowing us to achieve wellbeing for all while remaining within planetary boundaries. One of the STEAM+ partners participated in this workshop.
STEAM+ uses talent programs as 'innovation labs' to explore how to adapt higher education to the complex challenges of today and equip learners with the competencies they need for a sustainable life. The Green Competencies Framework (GreenComp) is therefore very relevant for STEAM+: it can be inspirational for the design of Innovation Labs as well as for the Menu for Policy Inspiration. At the same time, our experiences with the STEAM+ innovation labs and policy meetings thus far were very inspirational for the JRC-workshop; in the methodology for developing the GreenComp framework stakeholder cocreation is highly valued and the contribution of pioneers in innovative pedagogical approaches is recognised.
Participants in this workshop came from various corners of the educational system, including youth and parents' organisations, research centres, university or life-long learning networks and government institutions at national and European levels. All stakeholders strongly emphasised that since the future cannot be a continuation of the past (as this leads to ecological and societal collapse), no one really knows what the future will be like. In that context, 'teaching' as transfer of knowledge or attitudes is no longer sufficient; instead, all societal actors – including learners and teachers, but also parents, local communities, ngo's, businesses, and decision-makers – need to cocreate ideas and practices for bringing about a sustainable future. Interestingly, the representative of a large European students' movement stressed that young people are already developing their own learning tools and that these should be recognised and scaled up as important entry points for learning green competencies. This supports the talent-driven approach of the STEAM+ project: creating safe spaces where young people can learn with societal stakeholders is increasingly recognised as the main innovation educational institutions are facing.
Thank you for reading our newsletter of STEAM+ Innovating STE(A)M in Higher Education with Transdisciplinary Talent Programs!
Visit our web page to find out more the STEAM+ project and its partners
Project Coordinator: Prof. Marca Wolfensberger, Hanze University of Applied Sciences, the Netherlands
STEAM+ newsletter editor: University of Oslo, Norway
Email: info@steamtalent.eu
You were sent this newsletter because you are involved in or have been in contact about the STEAM+ project.
If you do not wish to receive further newsletters, please let us know. Please feel free to forward this newsletter and encourage others to subscribe.
Subscribing and unsubscribing is handled for now by e-mail: info@steamtalent.eu