STEAM+ project meeting in Oslo
22 April 2021

-

23 April 2021
From 22 to 23 April 2021, the Steering Committee of the STEAM+ project and members of the Advisory Board participated in a project meeting organized online by Oslo University partner. The aim was to discuss projects progress, to get input from Advisory Board and have an inspiring dialogue with Honors students from Oslo University.
During first day, partners shared experiences from their first policy workshops, followed by a presentation and discussion about the status, content and design of MPI-Menu for Policy Inspiration Concept. Oslo honor students shared insights from the first Norwegian HP. The second part of the day Steering Committee discussed project planning and Covid delays, project progress as well as better communication and dissemination strategies of the project, placing emphasis on the need to redesign the web page and to be more active in communication.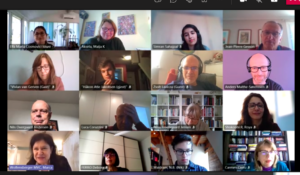 During the second day, STEAM+ partners discussed the ILIP concept- Innovation Lab Implementation Path Concept, got inspired again from the presentation of three honor students from Oslo University that shred their experiences about how to create transdisciplinary HP by students and for students. Further, the Advisory Board gave valuable input on projects progress and the day ended with a discussion about the first Venice Lab and STEAM+ participation in conferences.