Lab 1: Co-Creation in the STEAM+ Innovation Lab in Venice: 'Citizen Science for Marine Conservation' – 18-23 of July 2021
By Maryvonne Nieboer, lecturer at Hanze University of Applied Sciences Groningen, the Netherlands and participant in the Innovation Lab
In the STEAM+ project, that is supported by the EU's Erasmus+ program in Key Action 3 (support for policy reform), one of the assumptions is that co-creation by students, lecturers, and societal partners is key to come to better, innovative solutions for the 21st century challenges.
In the STEAM+ Innovation Lab in Venice, organized by the Ca Foscari International University of Venice co-creation by students and lecturers was one of the key elements. Each of the 9 participating universities (countries) sent a lecturer as well as a student to Venice to participate in the Lab. The participants had various educational backgrounds, and their working experience was diverse.
Some Venetian experts provided the participants with valuable, scientific background information.
Facilitators guarded the process and the progress of the Lab that was structured according to the Theory U.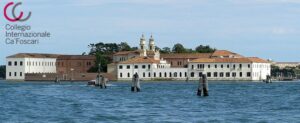 The participants worked in small, diverse groups, lecturers together with students, on designing a citizen science project for Marine Conservation. All participants actively contributed to the groupwork, coming up with ideas, knowledge, and suggestions. There wasn't any noticeable difference between lecturers and students within the groups and each participant took up the role that fitted best. The co-creation process really seemed to work.
The question is why co-creation by lecturers and students seemed to work so well in this particular situation. What was for instance different in this Lab compared to regular classroom situations?
In this Lab lecturers as well as students all were participants on the same level. The lecturers didn't have the responsibility for the learning process of the group, neither were they for the progress of the Lab. They weren't experts in the field to be studied, so they didn't have to provide the participants with theoretical background information. Therefore, the lecturers could focus on the designing process.
The students participating, all take part in a talent education program in their own university and were very eager to learn. The Lab covered a full week, which made it possible for students and lecturers to really focus on the topic without being distracted by other issues. The students seemed to feel valued for their contributions, which made even more motivated and confident to come up with good results.
If these are the real keys to success, more questions must be answered. Could these kind of learning environments be created in day-to-day higher education in European universities? Are lecturers able to act as facilitators, experts, and participants at the same time? And if so, would this result in the same level of co-creation? And if not, how could such learning environments be created in higher education, what is needed, and which different roles will be necessary in the classroom?