International STEAM+ Educational Policy Meet-up
8 September 2022 @ 09:00

-

13:00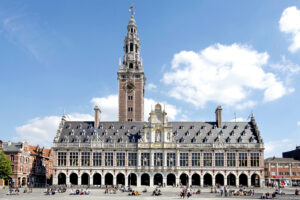 The STEAM+ partners are inviting you to the International STEAM+ Educational Policy Meet-up. Morning of September 8.
Let us join forces and strengthen the European transdisciplinary education network for a better future.
Where and when to meet
This international policy meet-up will be organised at the KU Leuven campus of Philosophy: Kardinaal Mercierplein 2, 3000 LEUVEN. Room to be announced.
The meet-up will be on September 8 from 09:00 – 13.00.
Who to meet
This meeting will bring together representatives from different European countries, covering the following profiles:
European education policy makers
National Policy makers for sustainability
Advisory board of the STEAM+ project
Steering committee of the STEAM+ project
Why come
Policy makers are vital actors in the necessary transformation of our society to achieve longterm sustainability. European Education Policy Makers will learn about the European STEAM+ project, an Erasmus+ project on transdisciplinary education as a driver for change. STEAM+ wishes to exchange ideas on the opportunities and challenges for policy makers and higher education institutions. We need fruitful cooporation at European level to improve and strengthen policy for transdisciplinary education.
The program includes a student-led transdisciplinary exercise applying the STEAM+ approach and a live interview between two pioneers in transdisciplinary education. While coming to Leuven, you can join the inspiring three-day Higher education summit in Hasselt, organised by the Copernicus Alliance.
STEAM+ invites you to their network session at the summit, Tuesday afternoon September 6 (https://www.higher-education-summit.com/)
Hasselt is one hour by train from Leuven, ideal to combine both meetings.
Contact information
Kardinaal Mercierplein 2
3000 LEUVEN
Room TBA
For more information about STE(A)M+ project visit:flyer-educational-policy-meet-up-september8-22
https://www.steamtalent.eu/
https://twitter.com/STEAMTALENT
https://www.linkedin.com/company/steamtalent/